HOLIDAY IN THE DOLOMITES VILLAGE
Come to rest, take a deep breath, & experience the beauty of nature
Alpine meadows. Forests. Rocky peaks. Beyond the never-ending horizon. The people live in harmony with nature in the small alpine village of La Val in Alta Badia, South Tyrol. Far away from noise and hustle and bustle.
The 3-star Alpenrose Hotel in La Val/La Val offers the ideal setting for a mountain holiday within an untouched landscape. The warmth of the Moling host family, the traditionally rich culture of Ladin's people, the spa and hours of sunshine will make this holiday an unforgettable experience.
What awaits you:
THE LADIN DREAM HOLIDAY
Surrounded by the most beautiful mountains in the world
The Alpenrose Hotel is located in La Val, and it's the first certified hiking village in Europe. It's surrounded by beautiful natural scenery, such as flowers in the Armentara Meadows, the reed meadow, and the Fanes-Sennes-Prags Nature Park. Allow yourself to be treated to Ladin hospitality. Your host family, along with the team, will take care of you. Get ready to enjoy our extra comfortable rooms, made of natural wood with panoramic views. Enjoy the relaxation oasis, the house bar with a sun terrace, the dining hall with a view of the Dolomites, an energising mountain breakfast, a cuisine with alpine aromas, optional and themed menus, a pine garden with a lawn, a playground, e-bike rentals and supervision of hikers by certified hiking guides. And during the winter, you can enjoy the Dolomiti Superski ski carousel, Alta Badia, Sellaronda, and Kronplatz.
BRING THE SOUL AND BODY TOGETHER
The Ladin mountain break for recharging batteries
Time is unlimited. Enjoy the silence. Make yourself comfortable. At Alpenrose Hotel, people and nature come first. After a full day of activities, our guests can relax in the wellness centre, which has a sauna, a steam bath made of pine, and a Jacuzzi. Our guests can also relax under the massage showers, where tasty teas and herbal scents are provided.
SWEET DREAMS
Have a restful sleep in pure nature
Our rooms are made of natural wood, and are located on the sunny mountainside in La Val, which ensures alpine cosiness and restful sleep. These are furnished in a rustic style, most of them with balconies and small sun terraces, with a view of the fantastic Alta Badia mountains.
Show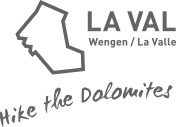 and into the
forest
i go,
to loose my
mind
and find
my soul.
John Muir
and into the
forest
i go,
to loose my
mind
and find
my soul.
John Muir
TRADITIONAL HEARTFELT HOSPITALITY
Be lovingly spoilt while on holiday in the Dolomites
In Ladinia, hospitality to our guests is very important to us. We do not only want to be hospitable towards our guests in Alta Badia, but we would also like them to feel at home. For this reason, we are always here to respond to any queries or requests. We – Otmar, Monica, David and Matthias Moling – are passionate hosts. Our personal commitments and the warmth in our house have made the Alpenrose Hotel a popular meeting point.
We are looking forward to hosting you with lots of kindness, happiness and care, because your satisfaction is our pleasure.
Yours, the Moling family
Fam. Moling
A wonderful holiday
in La Valle
Dolomiti Super Première 3+1
06/12/2023 - 23/12/2023
from Euro
243 4 nights/pers.
Dolomiti spring days - long stay
16/03/2024 - 01/04/2024
from Euro
486 7 nights/pers.
Offers list